Innovation at the heart of TRA-C industrie's strategy
TRA-C industrie places innovation at the heart of its strategy. Innovation is part of the company's DNA, it is a driving force behind our success in all of our activities. Innovation is materialized through partnerships with universities and engineering schools and the completion of theses or master's degrees. From upstream phases, thanks to our R&D department and our design office, through to our 4.0 production resources, TRA-C industrie is able to respond to your requests by offering you innovative solutions.
We have an R&D department made up of doctoral students and engineers, focused on the development of innovation. Several theses are in progress as well as many collaborative projects. We also work in partnership with universities and research centers.
We have all the resources, human and material, to carry out tests and prototyping. TRA-C industrie is equipped in particular with a machine for carrying out additive manufacturing as well as a laboratory for performing metallurgical and macroscopic analyzes.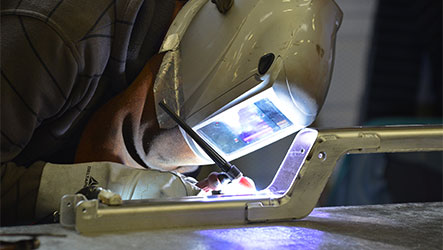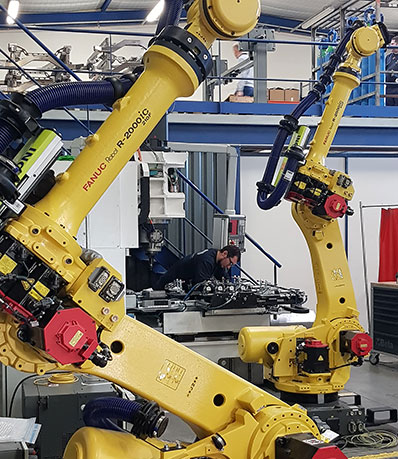 An Industry 4.0 stakeholder
Involved in Industry 4.0, we aim to develop digital technologies. We support the automation of projects and means of production in order to lead to a more autonomous, smarter and more communicative industry. This allows companies to achieve productivity gains, optimization of production costs and quality control.
Industry 4.0 is accompanied by an organizational change to help teams adapt to technological changes and train young people on the industry of tomorrow. For this, TRA-C industrie is constantly working on on-going improvement of its production and on Lean Manufacturing.
Values reflected in the means of production
We are continuously working towards innovation. TRA-C industrie is the European leader in Friction Stir Welding (FSW), an innovative solid state welding technology. We are also the first European company to have developed FSW for series production.
This process has many advantages, such as the possibility of welding multi-metal parts in order to produce light alloys. It is therefore particularly used in the automotive sector and more particularly in e-mobility. TRA-C industrie is a major stakeholder in this area of activity and co-develops certain parts such as battery cases, chargers, etc.
For 10 years, major e-mobility groups have been trusting us for their complex projects.