TRA-C industrie: What Is Friction Stir Welding?
Located in Lyon, TRA-C industrie is a reputable producer and lead-contractor in metalworking. Our credentials are acknowledged in France and accross Europe. Industrial excellence and a high level of technical know-how have made TRA-C industrie the European leader in Friction Stir Welding (FSW) technology.
FSW technology is one of the main strategic activities of the company. Since its introduction in 2009, TRA-C industrie has improved every step of the process. Today, TRA-C industrie is the only company in Europe to offer a fully integrated approach including R&D, production and ready-to-use solutions for high-tech equipment.
Our company has both the resources, human and material, to be the reference partner of all your industrial projects. To maintain this status, we offer highly valuable and actionable support to our customers from the initial design phase to the very installation of the machines in your premises. We can also provide a customized solution integrating specific tools.
Friction Stir Welding (FSW) is an innovative technology, which allows a solid junction of heterogeneous alloys, using a wear-resistant rotary tool that follows the welding seam.
Friction Stir Welding has many advantages and no drawbacks. It is a fast and economical welding method (with an achievable welding speed of 3m/min). It requires no supply metal and takes only one pass, not only speeding up the whole process but also making it easier.
Friction Stir Welding also allows multi-material welding such as aluminium/copper, aluminium/stainless steel, aluminum/steel, etc. It also brings the advantage of coping easily with materials of high thickness (up to 80 mm). Since Friction Stir Welding is fully automated, the risk of defect is limited and degree of reproducibility is significant.
Friction Stir Welding process is also appreciated for its ecological properties. It's an eco-friendly manufacturing process. The process doesn't involve emission of UV rays, toxic gases, or even smoke. Friction Stir Welding emits no projection.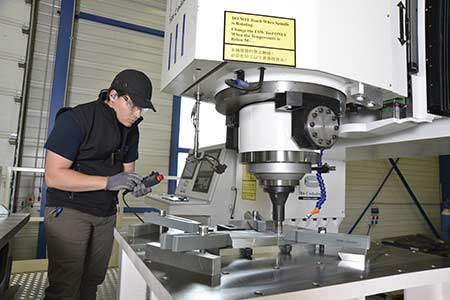 Technological
Possibility of welding aluminum alloys known to be difficult to weld
Possibility of welding large thicknesses (50mm)
Allows welding of all configurations
Better mechanical resistance
Improved fatigue resistance
Limited distortion
Not affected by a filler metal
Increased productivity
Low tool costs
No filler metal
No sheet preparation
Fissuration à chaud évitée
Excellente répétabilité et reproductibilité