TRA-C industrie: your robotics company in Lyon
For more than two decades now, the TRA-C industrie Group has been assisting its customers by offering them solutions for development, integration, assistance, training and advice. We design and manufacture different applications and solutions according to the requirements submitted to us.
The teams of our robotics company in Lyon will support you during all stages of your industrial robotization project.
We examine and take into account your constraints and requirements according to your specifications, handle development of the cell in our premises and then install it on your site.
The advantages of industrial robotics:
One of the primary objectives of our robotics company is to ensure the development and implementation of these 4.0 technologies in the various sectors of industry. Our industrial robot solutions offer many advantages:
At the same time, automation improves product quality by ensuring constant and near perfect repeatability. By optimizing the various stages of manufacture, TRA-C industrie, a robotics company, is able to help you reduce the risk of defects and non-compliance of your parts. In short, industrial robotization contributes to the reduction in the rate of take-back and return of products.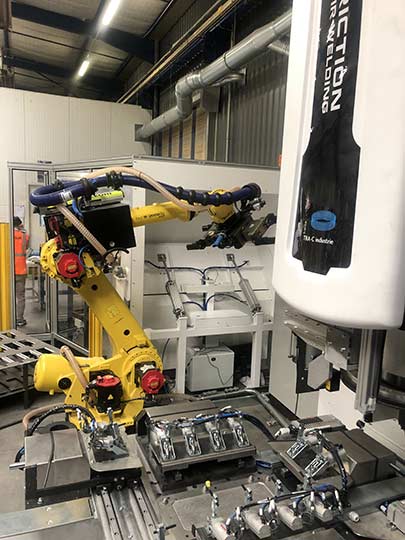 The solutions offered by our robotics company in Lyon
Our customers trust us for our know-how and expertise in the field of industrial robotics. Whatever your requirements, we can provide you with the right answer.
The TRA-C industrie Group has all the human and material resources in-house to design, develop, manufacture, install on site and ensure the proper start-up of your industrial robots. Our mobile teams are responsible for installing and rolling out the solution.
We also provide training for your employees in their use and maintenance.
Committed and constantly invested in the projects entrusted to us, we offer a global service in line with the requirements of French and European industry stakeholders. We support you to make all your industrial robotization projects a reality.
The TRA-C industrie Group designs and manufactures industrial robot cells
Our robotics company in Lyon works with partners from different sectors. Our teams design and develop industrial robot cells as well as complete welding cells including the FSW process. Finishing methods as well as the use of specific tools can also be robotized.
We work with recent technologies to carry out your large-scale projects. If you want to develop and install robot cells to improve and optimize your manufacturing process and your competitiveness, the TRA-C industrie Group can provide you with its experience and skills.
Would you like to have a tailor-made industrial robot?
Contact Us