TRA-C industrie: a boiler-making company in Lyon
The TRA-C industrie group, a boiler-making company in Lyon, is an expert assembler and equipment supplier in metalworking and the manufacture of industrial boiler-making parts for companies in different sectors of activity.
We operate in the fields of aeronautics, automotive, defense, and nuclear power, and even the food industry.
Our expertise in boiler-making and welding
Depending on your needs, we can manufacture custom-made individual or serial parts. Our industrial boiler-making company offers you diversified and efficient services: laser cutting, punching, stamping, metal shaping and forming, manual, automated or robotic welding (FSW – friction stir welding, TIG, MIG, MAG), bending, leveling, rolling, riveting and so on. We are skilled in working on all types of metals: aluminum, stainless steel, steel and so on, and all thicknesses.
Our know-how in this field is recognized at national and European level. TRA-C industrie has obtained several certifications attesting to this expertise.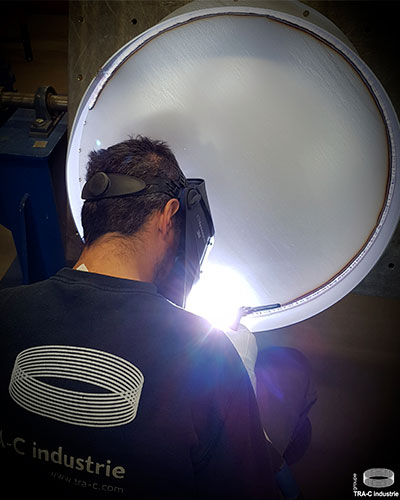 Our material and human resources
By trusting our boiler-making company in Lyon, you will be working with a partner who meets deadlines and produces quality industrial boiler-making parts. We aim to be responsive and proactive to support you in the best possible manufacturing technique by adopting the design to cost method. This principle consists in modifying the product to manufacture it at a lower cost.
With the help of our particularly developed modern high-tech machinery and the skills of our employees, refined over the course of their experience, we are able to carry out aluminum, steel, stainless steel and armored steel sheet metal working according to your needs.
TRA-C industrie supports you to meet all your boiler-making subcontracting needs
We put our expertise to work for our customers for all their boiler-making subcontracting needs. We can provide subcontracting for small, medium, and large series in the fields of fine sheet metal work, mechanical welding, the production of complete sets, etc.
Constantly invested in research and innovation, we adapt to each boiler-making and welding project submitted to us. We have the technical and human skills to meet all your needs by providing you with the right solution: production of an industrial boiler-making part according to specifications or a pre-defined protocol or research and development with prototyping and production.
Whatever your request, our design office and our manufacturing workshop will carry out your project with the greatest rigor, with a constant concern for competitiveness and reliability.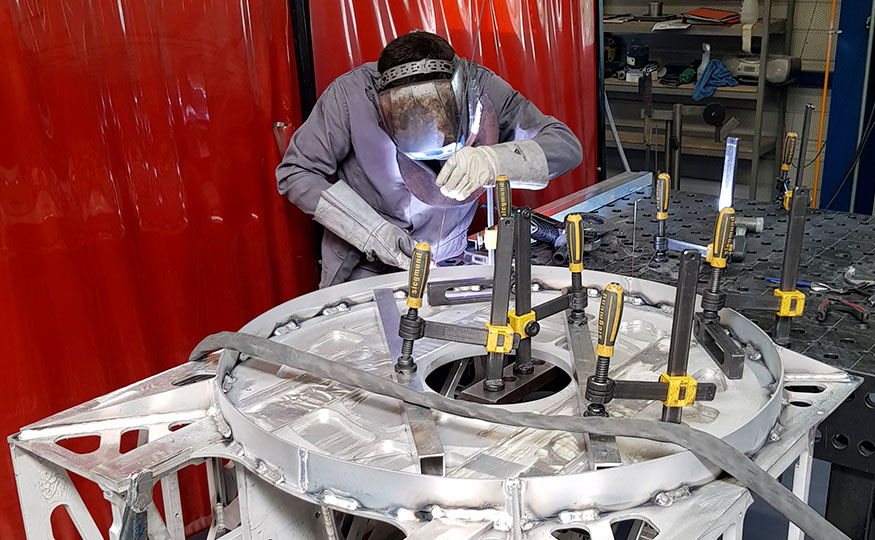 We train your employees in boiler-making
Our comprehensive expertise in the fields of sheet metal work on aluminum and in ferrous and non-ferrous metals, also allows us to offer you, thanks to our subsidiary Soudage Technique d'Auvergne (STA), tailor-made training. We rely on a team of expert trainers to provide you with personalized solutions to deal with any issues you may have.
Our industrial boiler-making company in charge of your project
TRA-C industrie is also a global boiler-making subcontractor in Lyon: we have all the necessary in-house resources to support our clients in their projects, from start to finish.
We respond to requests as diverse as they are varied: our teams work with the greatest rigor and know how to constantly adapt. Quality is the essential value on which TRA-C industrie bases its customer satisfaction.
Regardless of the level of support that is required of us, we aim to meet each challenge: one-off subcontracting or complete project management, we work with you by your side to resolve any issues you may have and create a better industrial future together.