What is mechanical welding?
TRA-C industrie is your special partner for the design and implementation of specific industry solutions. We offer you an innovative and bespoke approach ranging from engineering to subcontracting solutions. Furthermore, our services include the design of mechanically welded assemblies.
Today, we would like to introduce you to the concept of mechanical welding, its potential applications and benefits. Finally, we will see how our company can help you make your industrial projects a reality.
Defining mechanical welding: what is it used for?
Welding is a specific metalworking and processing technique that allows for the design of structures with complex shapes. It is usually combined with other metalworking and sheet metal processes such as cutting, stamping, punching and bending. In particular, welding is used in cutting-edge industry sectors such as aeronautics, automotive and construction. It is used to create metal structures of all kinds and sizes, such as large frames, handling systems (manipulator arms, forklifts) or robotic cells.
Mechanically welded assemblies are designed with different metal elements and parts such as sections, tubes, thin or thick sheets of varying sizes, etc. Generally, the metals used for this type of design are aluminium, stainless steel, titanium, steel and, more rarely, copper and its alloys.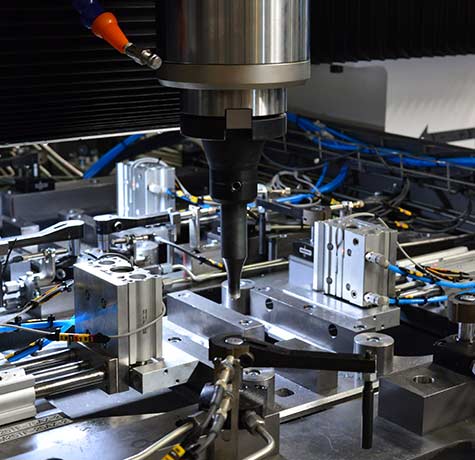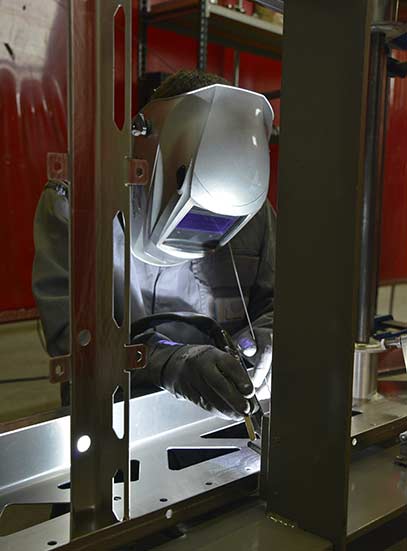 What are the benefits of mechanically welded assemblies?
Mechanical welding is a process adopted in many industries because it can be used in many ways and offers a wide range of benefits:
it allows for cost-efficient design: mechanically welded assemblies combine various metal parts. Such clever use of standard raw materials reduces design and manufacturing costs.
it can be used to create different types of structures: mechanical welding can be employed to develop various types of structures, from the simplest to the most complex.
it is quick to implement: this technique ensures fast manufacturing by using already formed elements.
strong and stable construction: mechanically welded assemblies are known for their high functionality and strength. This is why it is important to call on a specialised service provider such as TRA-C industrie to define the welding process best suited to your assembly's technical and mechanical constraints.
Precise and well-finished work: mechanical welding involves highly specialised work, which means it requires specialised, high-tech machines and qualified personnel. TRA-C industrie has the technical and human resources to give life to all your mechanically welded assemblies.
What welding processes are used?
TRA-C industrie is also recognised for its know-how and expertise in welding. Indeed we master a large number of techniques, which enable us to carry out any kind of mechanical welding project, from the simplest to the most complex, with any material:
MIG (Metal Inert Gas) and MAG (Metal Active Metal) welding
MIG welding uses a neutral gas (argon, or argon and helium), which does not react with the molten metal (electrode fuse). On the other hand, MAG welding requires an active gas – in this case a mixture of argon, carbon dioxide and dioxygen, the proportions of which vary according to the materials used. Both MIG and MAG welding are semi-automatic welding processes.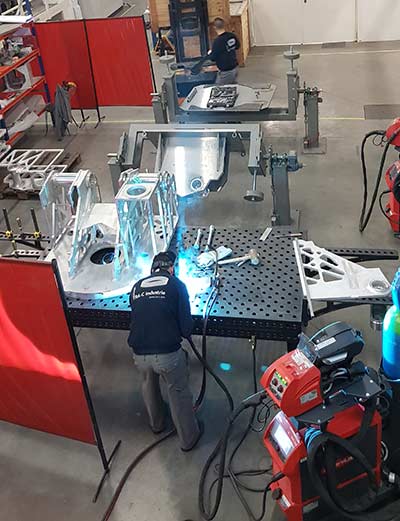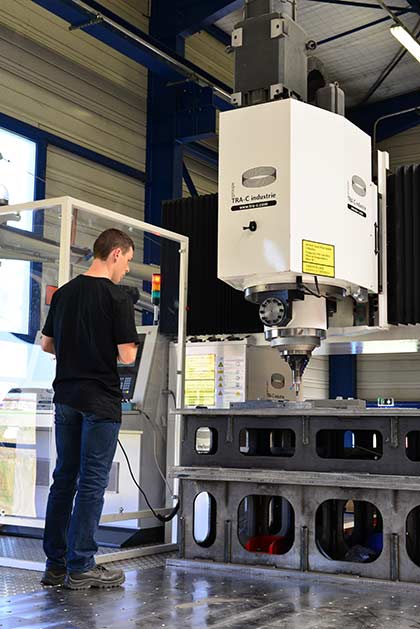 TIG (tungsten inert gas) welding
This process uses a neutral gas that is released when the metal is molten. It offers the benefit of separating the electric arc from the material being welded. This technique is recognised for its very high quality and extreme precision. It allows the welding of thin layers as well as heterogeneous and homogeneous materials.
FSW (friction stir welding)
TRA-C is now the European leader in this innovative process. Friction stir welding is a technical and versatile process that allows light alloys and heterogeneous materials to be joined in a solid state.
As experts in the field of mechanical welding, we recommend the right welding process for your specific needs. If needed, we can automate the welding process using robotic cells. These cells can help streamline the welding of complex parts. Furthermore, they optimise production resources by increasing productivity and reducing manufacturing costs. It is a reliable and sustainable way of ensuring good process repeatability and eliminating dangerous and repetitive tasks. Please get in touch to discuss your requirements and learn more about our solutions. We can support you in all your projects.
What makes TRA-C industrie your preferred partner in this field?
TRA-C industrie operates its own industrial design office, which brings together a team of engineers, technicians and PhD students. This allows us to meet all your needs by suggesting adapted solutions. Our teams are highly qualified and used to working with large industrial clients, and will do their utmost to meet your demands.
We will meet all your requirements and specifications by optimising production resources and designing complex assemblies with high added value. We can also create single parts, in small or large series. Furthermore, for any mechanically welded assembly project that is entrusted to us, we strive to preserve the security and confidentiality of your data.
As you can see, our French company has all the resources and expertise required to carry out complex welded assembly projects. As a multi-skilled expert, we support our clients from design phase to assembly and commissioning. And to meet all your expectations, we also carry out testing and produce prototypes on request.